Nowadays, Chinese is becoming a crucial element in job-seeking and international communicating. In Vietnam enabling to speak Chinese is considered a handy advantage. Due to the great impact of China's economy on Vietnam, many Vietnamese choose to take a Chinese course in Saigon to enrich their knowledge. You Can Chinese Language School is a great destination for those who are looking for a Chinese course in Saigon – Ho Chi Minh city. We provide various of reliable and practical Chinese courses with the best teachers and promoted tuition. Our learning schedule is very flexible during the week (from Monday to Sunday), therefore you can register for a Chinese course in Saigon which suits your free time.
The index
1. Overview on You Can Foreign Language School
2. You Can's tutors and teachers
3. Chinese courses in You Can School
3.1 Chinese course for beginner
3.2 Communication course
3.3 Chinese course for children
3.4 HSK/ TOCFL test preparation course
3.5 1 – 1 tutoring course
4. Some Benefits from taking a Chinese course in Saigon
5. Weekend Chinese Club for everyone
1. Overview on You Can Foreign Language School
You Can Foreign Language School is established since 2012 and currently implements with two facilities in Binh Thanh District and District 10 at Ho Chi Minh city. The Chinese educated program in You Can School is designed to meet the demands of knowledge and Chinese language skills in daily life. The learning route will raise your Chinese skills from the basic to proficiency level. Our course's value is shaped through a great number of useful vocabularies and efficiency practiced time.
2. You Can's tutors and teachers
Our team of tutors and teachers are experienced and highly qualified, with many that graduated from leading universities from China and Vietnam. They all hold renowned Chinese degrees like HSK and TOCFL. To meet the needs of trainees to practice the native Chinese language; we recruit both Vietnamese and Chinese native teachers for the course. At the beginning of the course, the Vietnamese teacher will in charge of the class to provide the basic knowledge. At the end of the course, the Chinese native teacher will interact with the learner to built-up your confidence and listening skills.
3. Chinese courses in You Can School
Chinese courses in You Can are not only effective and flexible, but they are also enjoyable. Our courses are designed based on the students' suggestions to make sure that everyone receives the assistance they need. We focus on developing both communication skills and writing skills in the Chinese language (Mandarin and Cantonese). To ensure that the students receive a suitable education, we also provide them with Chinese history and traditional culture. Before register for a Chinese course in Saigon you can determine your Chinese level with You Can's teacher. This will help you by saving your time and money since our test is free.
There are 8 levels in the Mandarin educated program and 6 levels in Cantonese at You Can School. Each level includes common communication situations, new words, and phrases. In order to ensure the quality of the course, You Can School limits the number of students from 8 to 12 people in each classroom. We also equip modern electronic devices to assist the learners.
3.1 Chinese courses for beginners
The Chinese course in Saigon for a beginner is a good start to newbies. The teaching program for beginner start from the most basic subject like: introduce yourself, talk about your family,… On the first day, the teacher will introduce the Chinese alphabet and 4 tonnes to the learner. The set of 4 Chinese tones is an essential part to form the pronunciation. Under the guide of You Can School's teacher, the learner will gain the skill to pronounce these pieces of knowledge accurately.
Each subject contains relative and helpful vocabularies and phrases for the learner to use. The teacher will instruct carefully the pronunciation and the native accent during the lesson.
3.2 Communication Chinese courses
The communication course is designed to enhance the learner's confidence and communication skills. You Can's instructors will utilize and maximize your vocabulary, survival phrases, and sentences for daily conversations. The practical situations posed by the teacher will help learners understand how to use vocabulary and communication patterns in life. By taking the new vocabulary and phrases into real-life conversations with their teacher and classmate; the learner gradually improves himself or herself speaking skills.
3.3 Chinese courses for children
Let the children learn Chinese at the age of 5 to 9 years old can increase their Intelligent quotient along with other benefits. At You Can Language School, the educated program for children will combine the lesson with joyful games. This plan helps young learner absorb their lesson faster and easier. In addition, the teacher also teaches the kid how to pronounce Chinese vocabulary by let them watch some short movies and songs. Different from the adult, most of the children can only pay attention in their class for about 30 minutes and then they will soon get tired and unable to sit still. So applying some mini-games during the course can help them enjoy the course more and more. This positive effect can get double or even triple when these young learners join in the lesson with friends
3.4 HSK/ TOCFL test preparation course
The preparation course for the HSK or TOCFL exam provides the standard amount of vocabulary and skills needed on the test. In order to support the learners, this course focuses on analyzing and solving the most modern set of HSK or TOCFL mock tests. During class time, the teacher will assist with explaining new grammar structures and vocabulary. This course not only instructs the learner with knowledge but also trains essential skills while taking the HSK or TOCFL test. The teacher is also sharing some time – saving tips for the learner and information about the HSK or TOCFL test. At the end of the course, learners will take a mock test prepared by You Can School to examine their Chinese proficiency.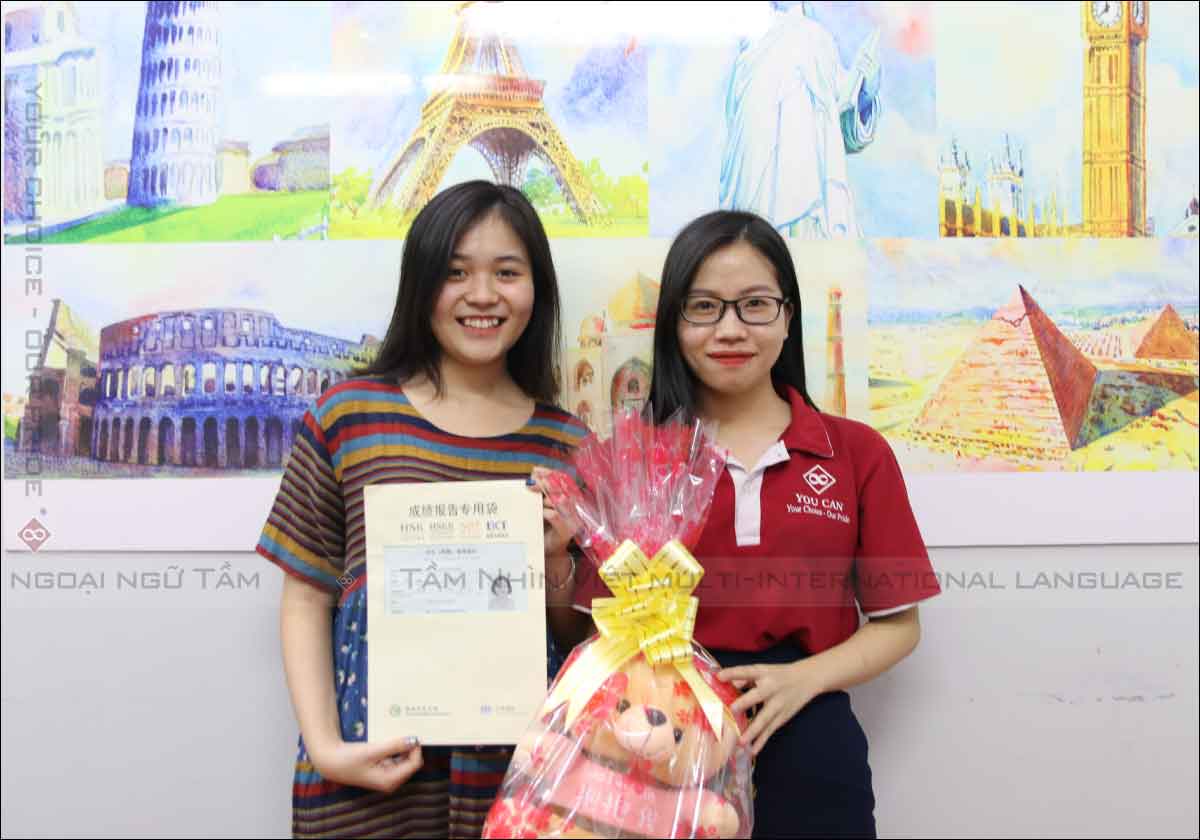 >>> TOCFL mock tests
3.5 1 – 1 tutoring Chinese courses
The benefits of taking a 1 – 1Chinese tutoring course include: flexible class schedules, customized lessons, and one-on-one language practice with an experienced teacher. This course educated program bases on the learner level and needs to provide the knowledge. Tutoring course provides an effective learning environment to evolve learner's Chinese skills. The 1 on 1 teaching style also corrects common errors in Chinese more efficiently. This is a great way for students to make accelerated progress and work around complicated schedules. The content of each lesson will provide the learner with all 4 skills: Reading – Writing – Listening – Speaking.
4. Some Benefits from taking a Chinese course in Saigon
Attending a Chinese course in Saigon is a relevant choice to invest in your future. In the 2020 China population is 1,439,323,776 people and takes 18.41% of the world's population. You can find Chinese is spoken in many countries in the world. Gaining knowledge through a Chinese course in Saigon can bring you many benefits. For examples:
– Knowing Chinese will allow you to effectively compete in the business environment of the future.
– China is playing a major role in world affairs and will continue to do in the future
– Leaning the Chinese develops critical and creative thinking skills.
– Having attended a Chinese course in Saigon is impressive information to fill in your CV while finding a job in Vietnam.
– Register for a Chinese course in Saigon creates a better chance to study abroad in China's universities
– A Chinese course in Saigon provides survival phrases and vocabularies for Vietnamese brides whose partner is Chinese.
– Vietnamese labor export gain useful knowledge to word in China environment
5. Weekend Chinese Club for everyone
You Can Language School holds a Chinese Club every weekend for everyone who wants to improve their Chinese skills. Participants will get a chance to discuss various topics with our native teacher. Everyone who has an interest in the Chinese is welcome to join in You Can's Chinese Club and no attended fee is required.
– Location: 3rd floor; 462/11 – 15 Nguyen Tri Phuong Street, Ward 9, District 10, Ho Chi Minh city.
– Time: 7: 00 pm – 9: 00 pm (Saturday)
[elementor-template id="20533″]